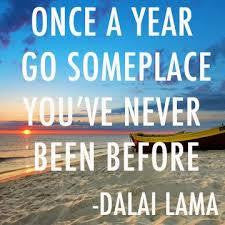 Imagine spending six weeks climbing a mountain to get to the wise guru who lives alone at the icy summit. This guru is the master who knows the meaning of life and the answers to all questions. Your conversation goes something like this: 
Oh great and all-knowing guru, what is the meaning of life?
Life is doing stuff. As opposed to death, which is not doing stuff.
Okay, let's change the subject. I'm thinking about going on a Caribbean cruise this summer. Will the weather be nice?
Who can say? The weather will be the weather. You are asking the wrong question. Try again.
I don't know. Will I have fun?
And that is the right question. Will you have fun?
That's what I asked you.
I know. And it's the right question. And my answer is, will you have fun?
Stop it. You're avoiding answering the question. You're a lousy excuse for a guru.
Don't be such a drama queen. You're just getting irritated because you climbed all this way and now you're dealing with concepts that are beyond you.
What concepts?
Like the concept that you have to let go of whether it rains or snows or sleets or hails on your Caribbean cruise. "Not raining" isn't always available. But "having fun" is almost always available.
So, your point is that there's no guarantee?
Not about weather. About fun, yes. You can guarantee it yourself. It's about options. Create options. Be flexible. You get all upset about such small issues. You let tiny details ruin your day. Loosen up. Be okay with not knowing. 
But I thought that you knew everything.
I know that I don't know. Therefore, I know. 
What?
Never mind. What I do know is that if you can't have fun unless everything suits you, you are no party animal. 
So what should I aspire to?
To be a fun hog. But to be a fun hog you have to be okay with not knowing what's going to happen. Fun hogs are, above all else, flexible. Fun hogs can let go of what they were hoping would happen. Fun hogs can roll with what is happening. Let go of certainty. Embrace uncertainty. It's way more fun.
Maybe it's time for some grand stupidity and absurd bravery. When you die, your biggest regrets won't be about what you did. They'll be about what you did not do.
Get Absurd. Get BRAVE. Go places you have never been before
WORK LIKE YOU'RE SHOWING OFF – Calloway