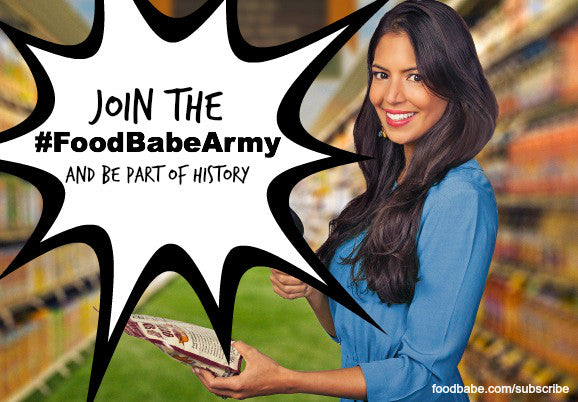 WHAT YOU PUT IN IS JUST AS IMPORTANT AS WHAT YOU PUT OUT.
These last couple of years we have been bombarded with information on how a lot of our food items have unwanted & unhealthy ingredients in it. Things we thought we're healthy and good we're actually not. There are so many options and brands now for every item sold in the stores it's seriously overwhelming. That's why "Food Babe" is amazing because that's her life and her passion and she does all of that research for us for free. Check it out yourself!
Another seriously cool new service thing we picked up on…
If you haven't heard about it already, here's the deal: anything you are doing that you need help with, that you can't get any of your friends to help you with, whether it be to go pick up your laundry, help you unpack your boxes, go buy a few items at the supermarket, pick up that jacket you left at someone's place...you ask "Task Rabbit" to do it for you. Name your price for the service and watch, within minutes someone takes your offer to do it. It's just that easy. Someone will show up shortly with a big smile at your doorstep.   www.taskrabbit.com
How about a little more uplifting, inspiring news for a change? News that makes you think and gives you a different perspective on things? This is a great and inspiring way to start your day or even when you want to take a break from your workload. Instead of reading the gossip columns read about the little miracles that are happening all around us to people like us everyday.    www.upworthy.com
 And last, but not least...
Enjoy radio shows from some of the world's greatest teachers in spirituality, health and wellness. It's amazing how sometimes you can hear something that changes everything for you. The most important thing in communication is hearing what is said. Give yourself the gift of a listening heart.  www.hayhouseradio.com