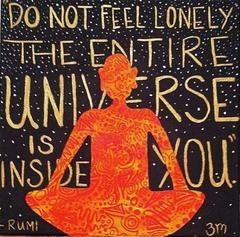 One of our favorite quotes we've read this year is:
" Nothing can make you happy until Nothing can make you happy "

The second favorite quote is: " Stop making stupid people famous "… (Sorry but thats a good one too). Ok now going back to the 1st and deeper quote. It's a really great one because it's so simple. Most of us will take a lifetime to understand it. Not including the many end of the world travels they'll take to finally get there.

We seek so much on so many levels to find happiness and fulfillment when it's here inside of us this whole time. Spirituality and mindfulness have become a popular topic and important part of peoples lives because it represents a sort of awakening. You become more aware and present. It doesn't have anything to do with a particular religion, it all has to do with just you and your mind.

Our lives have become so busy and distracted that we ourselves have become just that.. busy and distracted and the more we have of it, the more you steer away from your true self.

Somehow, when we go away on trips for our own pleasure everything slows down and we become more available to what is happening around us without jumping on the " what's the next thing" train we are so used to jumping on at home.

We notice the sky, nature, the little things, we smile to people who pass us and they smile back, we chat longer, we listen, we take longer lunches, we love the sun and it loves us back,…we pay more attention to our desires, our dreams.


Let's contemplate living our lives a little more everyday with this spirit inside of us. Be more spontaneous. Less busy, Less distracted. More alive and present. Try leaving your phone at home for once … what a concept!...ok maybe thats pushing it a bit but, more importantly be happy for no particular reason other than being here now - this very minute. No matter what is happening around you all you have is now and now is the time to be happy.

HAPPY NEW YEAR TO A HAPPIER NEW YOU.