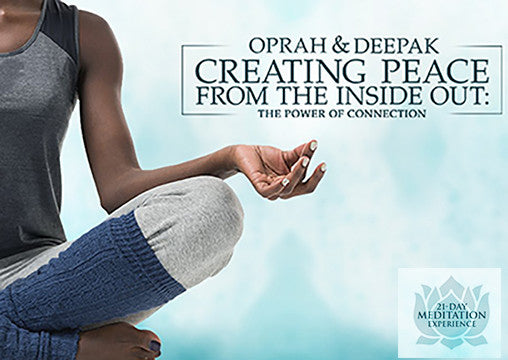 Creating Peace from the Inside Out. My family and I just did a "Walk for World Peace" around Hollywood with our Meditation group from this cool little Buddhist temple we love to go to in Los Angeles. They made t-shirts for us to wear on our walk that read "Peace is Possible. Outer peace through inner peace". Now here magically a few weeks later Deepak & Oprah offer us a guided free 21 days meditation for FREE called " Creating Peace from the Inside Out: The Power of Connection.
Coincidence?.. When The World speaks, you listen is how I've always approached life. 
I have done a few of these guided meditations from this duo and they are quite enjoyable. I've done them with my family at bedtime or even in the morning we'd listen to it before getting out of bed and it was very inspiring and sets a positive tone for the household. I strongly encourage you to do it or at least try it.. many who have really enjoyed it and make an effort to always do them when the opportunity presents itself like it is today. It is a very easy thing to install & download on your phone. It really just takes a few minutes. The catch is you only have a few days to listen to each meditation before it becomes no longer available which is actually a great idea to keep you on track and finish the program without getting distracted because god knows we NEVER get distracted.. ; -)
Get on board and let's do this one together! We can all use more inner peace in our lives and spread more peace with everyone that comes into our lives. 
Click on this link below!