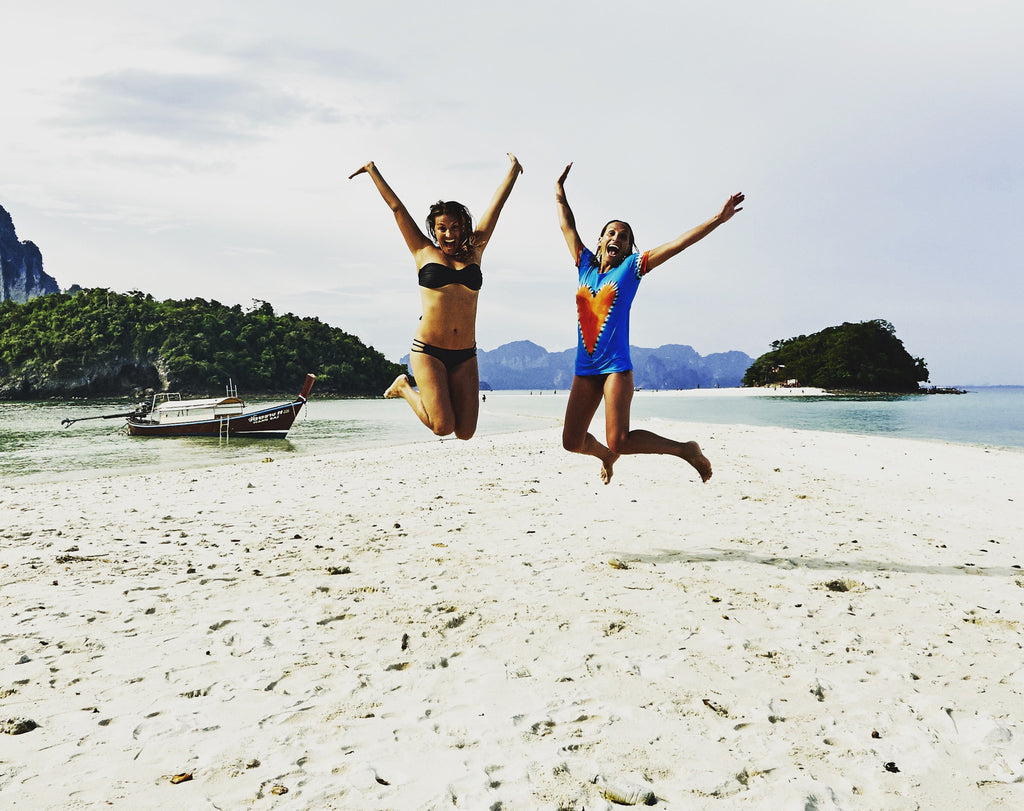 Think of yourself as an actor playing a part in the movie of life. In one single day you play many different roles, one minute you are a mother, a friend, a teacher, a boss, an employee, a guide, a wife, a lover, a husband, etc.. Seeing yourself as an actor who plays each of these roles with a flexibility of mind and finds the most constructive way in every situation can really be a great way to lighten up the intensity and seriousness of it all. When I was studying acting many moons ago with the famous and amazing acting coach Larry Moss. He would always start critiquing our scenes after we've played them by saying "What is your Intention? What are you trying to get on a moment to moment basis cause that is what fuels every action and how we play it out" Coming from that place of wanting to come out of every situation in a constructive way makes you more open, flexible, creative and makes life ultimately more fun. You will treat everything that comes in and out of your life with more lightness of being. 
Peoples always want to be surrounded by that energy and vibe because in a way we all strive to live our lives more like that. You will be invited to more parties, vacations, get more projects, have less conflicts and probably have better relationships with everyone with this new mindset. 
Here's some cool tips I found that I really liked and I wanted to share with you if you totally have no idea how to start that lifestyle today!
1 - COME FROM LOVE (my personal fav) To come from a place of love means accepting peoples as they are. (Not always easy BUT by Cultivating compassion and understanding. Love is open and generous. Notice how you label others or disapprove of their choices. Doing this only serves to make you feel tense, frustrated or critical. Remind yourself: I can't change you, I accept you as you are. I choose to feel good. 
1 - DON'T TAKE YOURSELF TOO SERIOUSLY. Yep! I said it and you probably already know it.. but always good to be reminded cause we sometimes forget the easiest ones.. like if you screw something up don't beat yourself down. We ALL make mistakes ALL THE TIME and we'll you have the opportunity in the very next moment to make it better just by your attitude - Truth!
3 - SELFLESSNESS. There is much to be gained from showing a genuine interest in others. You open yourself to learn something new and you give the gift of your attention. Probably the greatest gift you can ever offer to anyone. 
4 - BRING POSITIVITY WITH YOU.  It can be easy to fall into the pattern of expecting people, events and circumstances to bring us joy, we often forget that we can bring it too. Make it your goal to fill your own life and the lives of those around you up with positivity. Get your "happy" on and then not allowing anyone or anything to take it from you. Can I get an Amen?
5 - SMILE (another personal favorite) People are SO MUCH MORE ATTRACTIVE WHEN THEY SMILE... Seriously.. it seems obvious but most people don't do it as often as they'd like to think they do...
Little short personal story on that one .. I was on a shoot Wardrobe styling a gig as I have hundreds of thousands of times before that and someone happened to be filming the behind the scenes that day and I caught site of the footage not long after and was so completely shocked when I saw myself on films.. while I was fixing the model I had the most intense serious unsmiling face basically a very tight and ugly face. Everything about that moment was so not the person I wanted to portray .. I just couldn't imagine that that was the face I was presenting to the world most of the time. Truly having caught my reflection that one time was a big game changer for me. Smiling triggers something inside of you and already engages you in a more positive way. Lessen learned on that one.. 
Love to hear if you have anything to add to this please chime in !! .. always great to hear other peoples perspectives and stories.